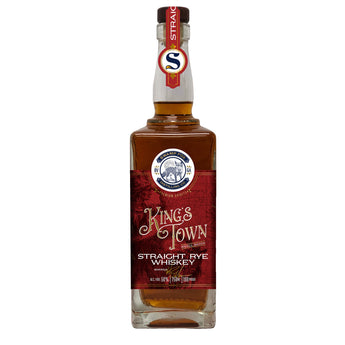 Swamp Fox Distilling Company
King's Town - Straight Rye Whiskey - 50% ABV
King's Town refers to the local history (legend) of a Native American village called King's Town existing on or near the site of the distillery before the City of Buena Vista was established. This group of Creek, Uchee, and Muscogee Native Americans settled the area, attracted by the fertile soil of the Chattahoochee River basin and the high ground of the current town center. King's Town was once used as a meeting place for tribal chiefs, whom were often called "Kings"

King's Town is a very unconventional and complex whiskey. It is a four grain blend,
predominantly rye with a bit of wheat added to smooth out the harshness of the rye and also an amount of corn equal to the wheat which adds a touch of sweetness. Malted Barley then adds another layer of smoothness and a bit of nuttiness. Most find it much smoother than a traditional rye and the combination of grains pull a bit of smokiness from the barrel which compliments the spirit nicely. Patiently aged in #3 charred new white oak.
Tasting Notes:
Toffee
Pepper & Allspice
Nuts
Earthy
Allspice
Vanilla